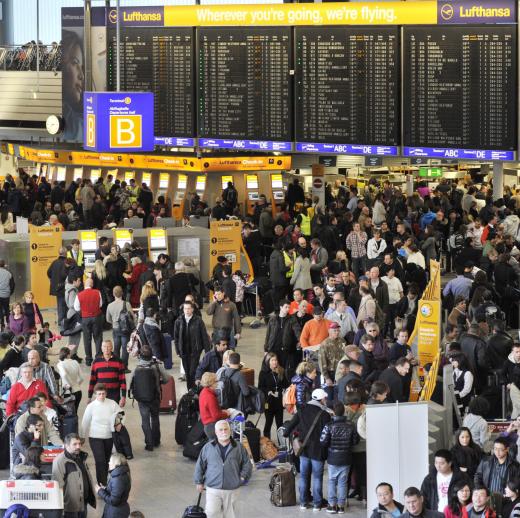 Two people were killed in a shooting at a bus carrying American soldiers at Frankfurt airport, two others were injured, DPA reported, citing German police.
Police arrested the shooter - 21-year-old man from Kosovo, said Interior Minister Boris Hessen Rhein.
It is not yet clear what motivated his actions.
At this stage, can not say whether the attack was a terrorist event, said Rein, announced Monday.

The shooting occurred in front of Terminal 2's second largest airport in Europe, said airport spokesman said Monday.
In his shots were produced "near or at the bus carrying American soldiers.

The attacker started shooting when the vehicle stopped in front of Terminal 2 at the airport.
He killed the bus driver and one passenger.
One person was seriously wounded and another - slightly AP, citing a spokesman for the German police.

The U.S. Army has several large bases near Frankfurt, which are often used as logistical hubs for operations in Iraq and Afghanistan.

Chancellor Angela Merkel condemned the attack and said that Germany will do everything possible to uncover the reasons for it.

Obama said he was "saddened and angered" by the attack of the archer, AFP quoted by Focus.
He added that the U.S. government "will not spare efforts" to discover the circumstances surrounding the attack.
"We will work with German authorities to make sure that perpetrators will face justice," he added.

Later it was reported that the shooter was born in Germany, Kosovo, devout Muslim, told the Associated Press, relying on his relatives.
Interior Minister of Kosovo Bajram Rexhepi said that German police identified the attacker - Arif Uka, na21 years, the northern Kosovo town of Mitrovica.
In an interview with the agency in Kosovo's 70-year-old uncle of the offender stated that he says Areida Uka and he was born and raised in Germany, where his parents immigrated from Kosovo 40 years ago.
According to the uncle his nephew worked at Frankfurt airport.

The motives for the attack remain unclear.
The investigation is in its initial stage.
According to the website of the weekly Der Spiegel checked some testimony showing that the man shouted "Allah is greatest" before they open fire.